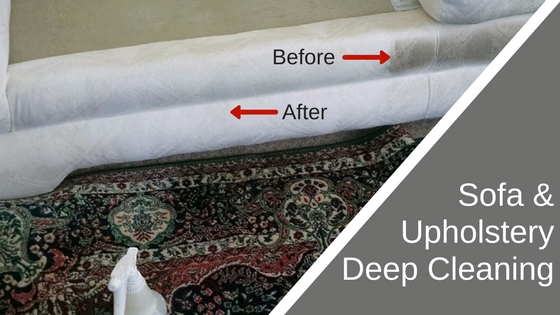 At Affordable Carpet Cleaning & Restoration, many of you already trust us with your annual or bi-annual deep cleaning of your carpets, but have you talked to us about our upholstery cleaning services yet?
Many times the furniture in your house may be one one of your biggest investments inside your home. We understand that and we know what it takes to safely get the job done right. Our trained technicians will evaluate the state of your upholstered furniture like couches, sofas and armchairs, to determine that they can safely clean it without damaging the fabric before they proceed. At Affordable Carpet Cleaning & Restoration, we use the same safe, highly-effective hot water extraction method that we've been using on your carpet for years which will safely dry within a few hours.
We have always delighted our customer beyond their expectations. In the image above, you can see a sofa about half way through the process of getting a deep clean by our trained technicians. We started cleaning on the left side of the sofa where it's now white after many months (possible years?) of dirt build-up and on the right side, you can still see where we haven't started cleaning yet.
Call us today to discuss your upholstery needs to see whether upholstery cleaning is a good option for you. We service Salt Lake City, Park City and surrounding areas.
Call (801) 278-1713