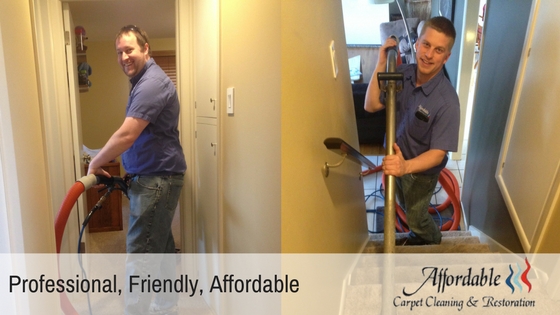 One of the difficult aspects of being in the carpet cleaning industry is dealing with people's perceptions and trying to get them to give you a chance.
Are you one of those people who dislike sales people and their shady sales tactics? For example, when the sales guy knocks on your door who insists on showing you his product that can remove any stain out of carpeting and claims it will only take him 5 minutes. But somehow two hours later you're still trying to kick the sales guy out of your house who keeps insisting that in only one more minute the stain will be gone, which he's been saying for the past 2 hours. And then you find out that the 'product' he's trying to sell you, which you incorrectly assumed was some type of affordable detergent, is actually a $2,000 vacuum which requires you to have super human strength in order to lug it up and down the stairs. Or how about when someone goes into the car dealership for an oil change and comes out with a brand new car. Or the phone bill which when you signed up was supposed to be a certain amount, but after all the additional fees, ends up being a completely different amount than you ever thought possible.
It's no wonder we're hesitant to be face to face with a sales person and the fact that we're suspicious of the initial prices they quote us.
Introducing Affordable Carpet Cleaning & Restoration
Luckily, Affordable Carpet Cleaning is NOT one of those types of businesses. We're honest, reliable and professional. As a small business with an office in Salt Lake City as well as Park City, our customers are important to us and we don't ever want to put them in a situation where they are uncomfortable or must make a rash decision. We never hire pushy sales guys. If you hire us to come in and clean your carpets, that's exactly what we'll do. Treating our customers like we all want to be treated has helped us stay in business for so long, and we hope to have many more years to come.
So if you happen to live in the Salt Lake City, Park City, Lehi, Provo, Ogden, or other surrounding areas, the answer is yes there is truly such a thing as affordable carpet cleaning. One of our most popular carpet cleaning services is three rooms for $89.90, with each additional room being only $18.95. Considering that our truck mounted vacuums are powerful enough to remove the finest dirt and debris, most customers of ours only require our service between once or twice a year.
If you haven't had your carpets professionally steam cleaned in over a year, then we hope that you can set aside whatever perception or reason that's been holding you back and give us a call. We would love to get your carpets clean again!