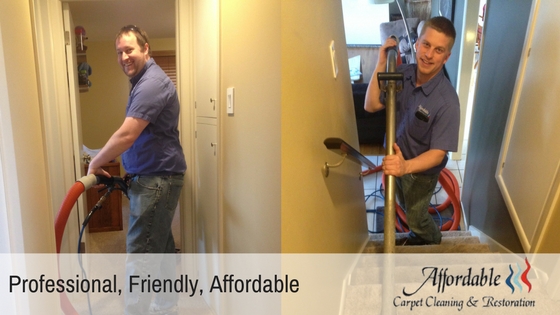 Here's a letter from one of our customers…
"First of all, I just wanted to say thanks for the great work. Your team was able to get the deep stains out of the carpeting that have been bothering me for months. 
I've been pleasantly surprised to see the same familiar faces each time I've interacted with your business. It seems like so many times when you hire other companies to come into your house, they send a new face each time. I don't know whether that's because they have a ton of employees working for them or they just rotate through workers. To my delight, this has NOT been my experience with Affordable Carpet Cleaning. Every time I schedule for them to come to my home, it's the same person (Shannon) answering the phone and it's the same two guys (Ryan and Chad) that get my house looking great again. It's something so simple, but it goes a long way in customer service.
When you invite someone into your home, even if it is merely to clean the carpets, it can be an uncomfortable situation for some. But this has never been the case with Affordable Carpet Cleaning & Restoration for me. You can tell that your staff cares about their services and the business they work for and they truly care about doing a good job. They're not just working a temporary job like I've found with many other cleaning companies. There is something to be said about a company that can retain employees like that. 
This is just one of the many reasons why I choose Affordable Carpet Cleaning & Restoration when I need my carpet and tile to look great again."