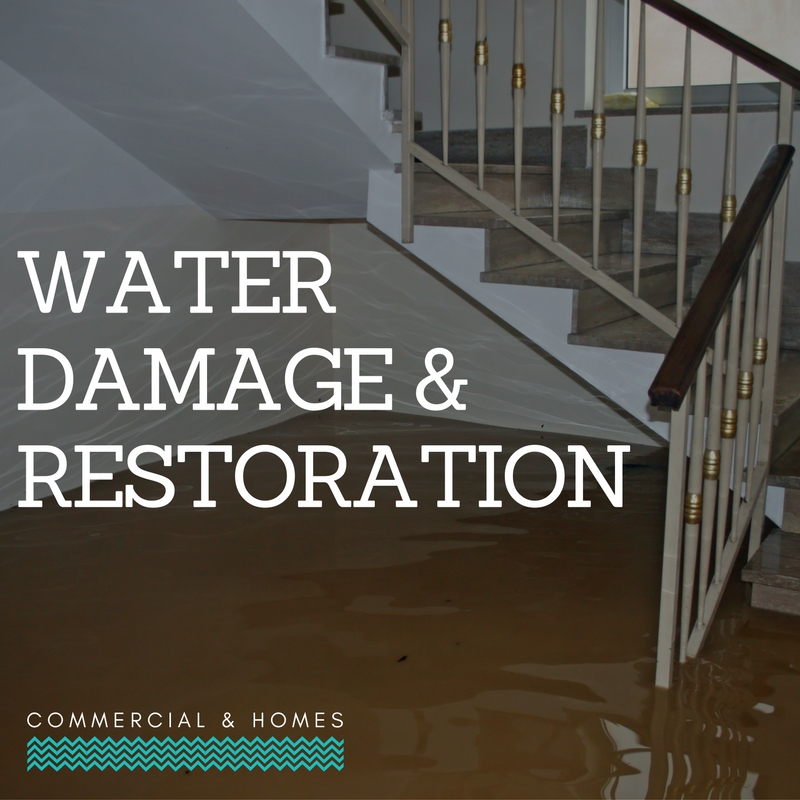 There are few things that turn your house and your life on its head quite like water damage. Only a few inches of water can result in major damage to your floor, furniture, and personal possessions. No matter the cause, it's important to respond to these incidents quickly to remove the water, repair the damage, and treat any areas where mold is present.
Water Removal in Salt Lake City, Park City & Surrounding Areas
We might not get much rain in Salt Lake City and the surrounding area, but when it does rain, it can REALLY rain. It seems like there is always a week in spring or fall when the rains wreck havoc on our Utah cities. If your home or business happens to get hit hard with the rains and you need to get the water removed promptly, give our team a call so we can get it restored back to original condition.
Before any work can be done, all standing water needs to be removed. We'll respond quickly to the scene of your flooded basement or wherever you are experiencing problems. Our professional water removal tools allow us to extract any water from your property to minimize any further damage.
We offer flood water damage services in Salt Lake City, Park City, Lehi, Magna, Provo, Murray, Holladay, West Jordan, etc. If you are unsure whether we offer water restoration services in your Utah area, please give us a call.
Flood Water Damage Restoration in Utah
The objective of our water damage restoration service is to return your home or business to its pre-flood condition. To accomplish this, we first must completely assess the extent of your damage. Then we decide what must be done to make the property safe and functional. This includes problems that are blatantly evident and those that might be hidden to the untrained eye. Our company takes great pride in being very thorough during this stage to make sure we provide necessary repairs and replacements at a cost-effective price.
With your permission, our technicians will then commence the work necessary to repair and restore your property. This may include carpet or flooring installation, structural repairs, and cosmetic upgrades. We will also pinpoint any signs of mold damage and get rid of this health hazard and prevent future growth.
If you experience a flooded basement in your home, water damage at your business property, or any other related issues, contact Affordable Carpet Cleaning in Salt Lake City at (801) 278-1713. If you reside in the Park City area, give us a call at (435) 649-7320. Our team recognizes the seriousness of these issues and will respond to your call as quickly as we can. We'll help you get back on your feet with our professional water damage restoration services.
First, Mitigate Safety Hazards
When we arrive at the scene of the flood, certified restoration service technicians start by checking for any immediate dangers such as damaged electrical wiring, unsafe structural damage and spilled hazardous materials including pesticides, gasoline, fuel or cleaning chemicals. After these immediate threats are mitigated, the next step is to get the water out to prevent further damage to your carpet, upholstery and other possessions.
Affordable Carpet Cleaning technicians use a variety of methods to accomplish this important step in the restoration process including large, commercial-grade fans and dehumidifiers. We also have the tools and expertise to move furniture, peel up or cut out damaged sections of carpet and break down rotting or moldy dry wall and framing. Using the latest infrared thermometers and moisture detectors, we can also help find hidden leaks and wet areas rather than tearing into walls or call through your attic or crawl space.
Restoration Services and Steam Cleaning After the Flood
It may take a few days, and longer if the flood is in the basement, but soon your home or business will be dry once again. Depending on the extent of the damage, however, it's likely that you will need additional help for cleaning and repairs. We have extensive experience with disaster-related steam cleaning carpets, tiles, furniture and upholstery, and will move up your project on your schedules to help get your life back to normal quickly.
During our nearly four decades in the restoration and steam-cleaning business, we have also learned to bring a licensed contractor with us on every flood damage restoration job. These contractors can jump right in while our water removal technicians are busy and can begin repairing walls, ceilings, framing and more. We can also sell new carpet or replace pieces of existing carpet without sending you to a second-party supplier.
Get Help Filing Flood Damage Insurance Claims
After the flood, we can work with your Utah insurance company for billing and claims processing. First, we can help you understand whether or not your insurance policy will cover the flood event in question. Unfortunately, most standard home insurance coverage doesn't include flood damage. However, you can purchase special policies and could even be eligible for federally funded insurance help if your home is in a high-risk area. We can also help you find out if problems like structural damage are covered even if general flood damage such as carpet steam-cleaning and plumbing work are not.
We have built relationships with local brokers for both home and business property insurance throughout the Salt Lake metro area and can help you navigate the claims processes and paperwork requirements for any insurer.
Hours of Operation
Monday – Saturday
8:00 am – 6:00 pm
24/7 Emergency Service