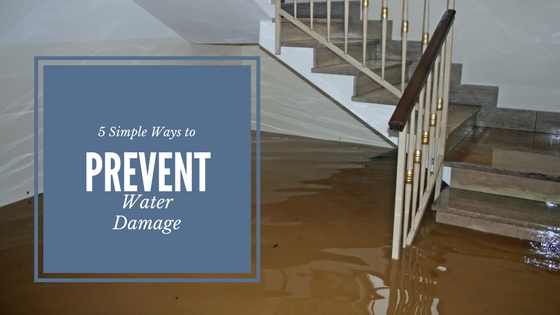 It seems like whenever there's a lot of rain or a sudden warming trend after a heavy snowfall, many people find themselves facing water damage issues, especially in their basement. What many people don't realize is there are simple ways to prevent and quickly identify situations like these so you can react sooner and catch the problem before it becomes too late.
In Salt Lake City, Park City and surrounding areas, the three main problem areas that we typically come across are swamp coolers, the water line on the back of refrigerators, and pipes in the basement.
Here Are Some Tips to Help Prevent Water Damage
Clean out your roof gutters (or hire someone to do that for you)

On a rainy day, a clogged gutter could send water spilling into your home's foundation, through the roof, or down to your basement. By keeping your gutters clear of sticks, leaves and other debris, you'll be able to more effectively handle the rain in the case of a downpour.

Check for water leaks and fix them

Look for dark spots under pipes like sink cabinets and keep your eye out for stains on ceilings and any type of drip marks. At least once a year, inspect your roof and repair any missing, loose, or damaged shingles. Also, don't forget to keep an eye on your water bill. If you see it creep up or get unusually high, it's a pretty good sign that you may have a leak somewhere.

Make sure any outdoor hoses are disconnected during cold weather

Standing water in a hose may freeze back into the pipe and create an ice block that may bust your pipes and create damage to walls, floor and foundation.

Maintain and be mindful of large trees

Minimize landscaping near utility pipes and keep a close eye on the tree if it's close to pipes and becoming too big.

Install water detection devices

You can purchase these devices for around $20 at Home Depot. Basically, it is a small electronic device that sounds an alarm when its sensor comes in contact with moisture. Install it near swamp coolers, water line on the back of refrigerators and problem areas in basements.
What to do if You Still Get Water Damage
Affordable Carpet Cleaning & Restoration offers a 24 hour emergency water damage service. We'll respond quickly to the scene with our professional water removal tools that allow us to extract water quickly. The objective of our water damage restoration service is to return your home or business to its pre-flood condition. Using the latest infrared thermometers and moisture detectors, we can also help find hidden leaks and wet areas rather than tearing into walls or crawl through your attic or crawl space. Depending on the extent of the damage, if you need additional help with repairs, we have extensive experience with disaster-related steam cleaning carpets, tiles, furniture and upholstery.
After the flood, we can work with your Utah insurance company for billing and claims processing. We have built relationships with local brokers for both home and business property insurance throughout the Salt Lake metro area and can help you navigate the claims processes and paperwork requirements for any insurer.
Call us at 801-278-1713 to get your home or business back to normal!